Over the past year-plus, we've seen growing investment in home improvement. The demand for kitchen remodels, in particular, has been increasing at a steady pace over the past few years as homeowners realize how much value a well-designed kitchen can add to their homes…2022 is shaping up to be another big year for Home Improvement.
Here are the areas you should focus on this year:
Dual-Purpose/Multifunctional Rooms
Living spaces continue to double as our workrooms, which is the new normal. The kitchen continues as the conference room and The Farmhouse Table is the new boardroom table." -Kathryn M. Ireland
"Rooms will be designed for double duty; i.e. dining rooms walls lined with wine storage or books, guest rooms fitted with desks, bedrooms equipped with exercise equipment. As people spend more time in their homes, they expect the spaces to work harder for them." -Timothy Corrigan
High-Tech Homes
"Design continues to evolve with new advances in technology. Myself and many designers are embracing virtual design by leveraging this powerful new technology to create immersive spaces and highly engaging designs that feel both contemporary and futuristic." -Kelly Wearstler
Sustainability Everywhere
Many are looking to more sustainable, eco-friendly products and techniques for their homes.
Expect to see landscaping that beautifies yet protects, especially in areas prone to wildfire or flood, as well as exterior walls of brick or stone. Inside the house, repurposed flooring is predicted to become more popular. In addition, there is an increasing amount of attention being paid to sustainable options like bamboo or cork. Look to the roof for solar panels that take eco-friendliness even further.
Safety Features Inside and Out
Pandemic woes meant staying at home quite a bit, and that often led to realizations about safety in the home. HVAC units with "whole house" air filtration systems or anti-microbial tile may become more common.
Many households now have several generations under one roof, and that means accommodating the difficulties the elderly might have with their day-to-day lives. To that end, expect to see many people renovating their homes for aging in place, complete with roll-in showers, grab bars, and nonslip flooring.
Outside the home, there's been an increase in demand for those things that keep us safe inside, such as backup generators. The demand for installation of generators is expected to grow by almost 6 percent by 2026.
Bathrooms That Feel Like Spas
Spending more time at home with other family members can mean a lack of privacy, and that can lead to frustrations. Those seeking privacy in a crowded home might look to increase their bathroom space even further.
Look for luxurious changes as well as practical ones, such as built-in storage units in the bathroom cabinets, deep vessel sinks, and better bathroom lighting ideas (including those with a twist—think bathroom chandeliers). And of course, sturdy locks to keep that well-earned bubble bath all to yourself.
Prioritizing Outdoor Spaces
Those who wanted to entertain during the pandemic often found the only way to make it happen was outdoors. Social distancing helped increase the demand for outdoor space in 2021, and that trend shows no signs of slowing down.
Homeowners are focusing on their patios, decks, and outdoor kitchens as places to relax outside of the walls of the home. Plus, staying home during the pandemic led to a significant uptick in gardening, both growing produce for cooking as well as decorative plants for beautifying the home.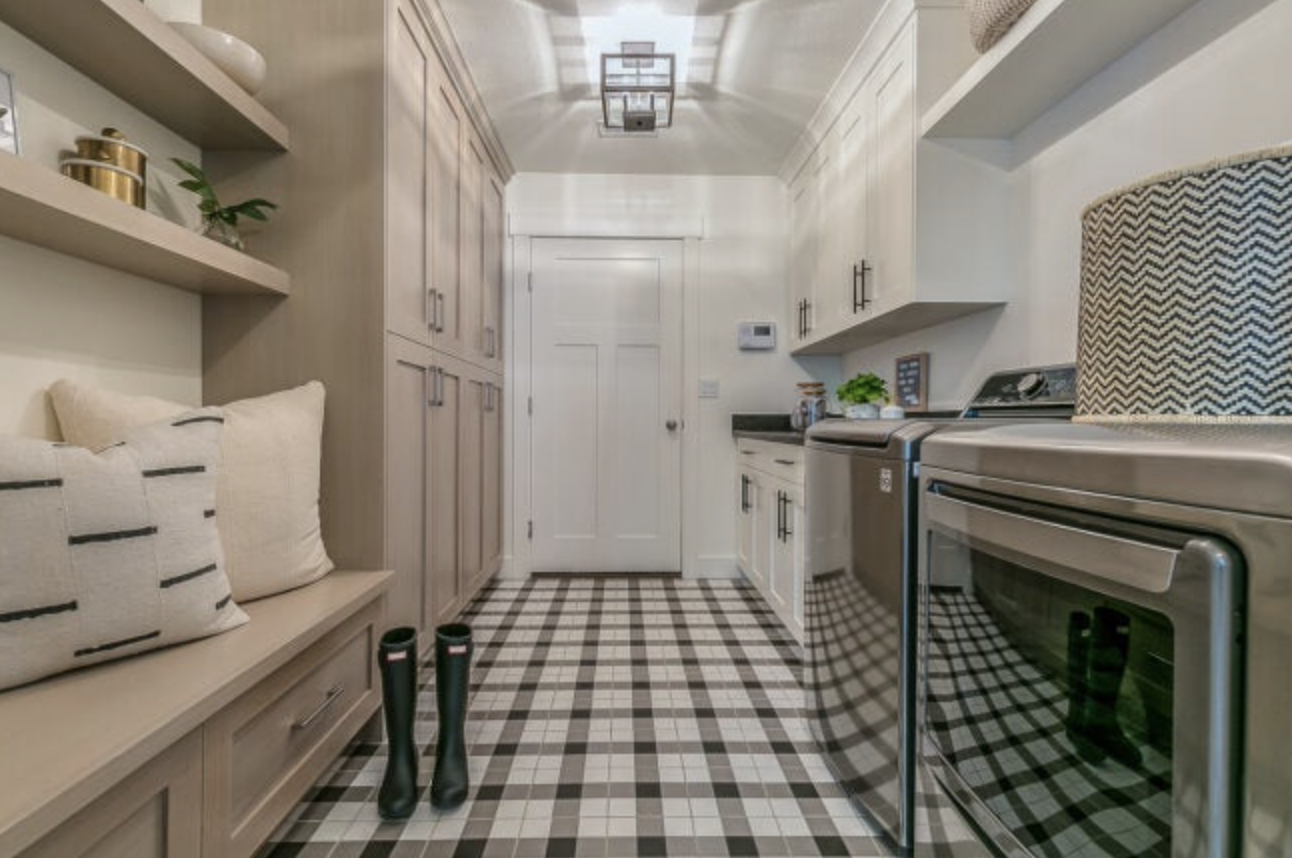 Mudrooms or Transitional Rooms
If you're going to have a lot of outdoor space to play in, there needs to be an area that transitions back into the home. That's where a mudroom becomes a handy space. The trend includes mudrooms or "drop zones" with copious amounts of storage for shoes and coats, deep sinks or washing stations for those overzealous pets, or even showers for the humans.

Depending upon the location of the mudroom, it could also include a landing spot for deliveries of packages or groceries if it's at the side of the house or part of a newly remodeled garage.
Going Retro
Supply shortages were an unfortunate reality for a wide variety of industries in 2021, and the world of home improvement was no exception. From shortages of certain paint colors to an inability to get new furniture delivered in a timely manner, many homeowners have turned to other options for sprucing up their homes. The result is a newfound love of retro style.
Local flea markets, yard sales, and antique stores are all great places to land that perfect vintage feel. One-of-a-kind pieces or those that have been upcycled with new upholstery or paint are ideal for a lived-in look at a fraction of the price of something new. Vintage items in a home also support the all-important themes of sustainability and eco-friendliness.
Unique Kitchen Configurations
While we see the open-concept layout of a home is still highly desired, we also notice that turning the kitchen into a multipurpose room is definitely a trend that isn't likely to stop anytime soon. To that end, many homeowners are going with TWO kitchen islands: one for entertaining and food preparation and the other for school, work, and everything else.
While any sort of kitchen remodel can offer up great return on investment, having two kitchen islands in a carefully balanced aesthetic catapults a simple, mid-range kitchen into high-end territory.
More Attention to Storage
Minimalism has been around for many decades, and the advantages of decluttering have become legends. As Marie Kondo asks, does it spark joy? If not, perhaps you shouldn't have it around. For many, the solution to this is better storage for the things they don't want to see every day, but can't bear to part with.
Kitchen cabinets with pull-out shelves, appliance garages, bathroom cabinetry configured to handle all the small tools of hair care and hygiene, cubbies and hooks throughout entry areas, and under-bed storage with smooth-sliding drawers are all options to hide things away and streamline the look of a room.
The Home Office Still Rules
Home offices have grown in popularity over the years, but the importance of them truly hit home during the pandemic. As unprecedented numbers of workers log into work from their couch, a more ideal scenario of a proper home office with a door that locks and a dedicated phone line has become a serious home renovation goal. This trend will surely result in many spare bedrooms or even empty spaces above the garage being transformed into a dedicated space for work.
Sources: